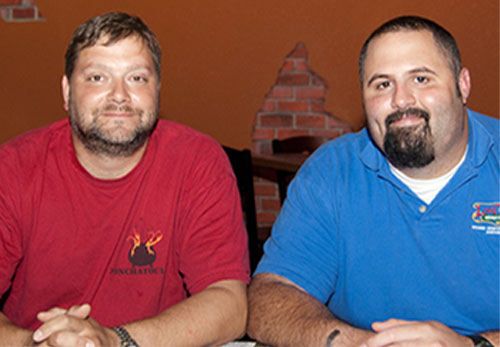 Johnny Gaudet, restaurant entrepreneur, has created a name for himself over the years.  Ponchatoulas was proof of his original passion for good food and fun.  Now, three restaurants later, Johnny and his partner, Chris Garriga, have centralized their restaurants to Ruston, LA. Johnny, a Louisiana Tech graduate, opened Ponchatoulas in 1996, Log Cabin in 2005, and Cheeburger Cheeburger Ruston in 2014.  In 2001, he took Chris Garriga under his wing and taught him the ropes of the business, food preparation and customer services.  Their partnership now results in the success of these operations, but also a friendship rooted in trust and honesty. Johnny is a self-proclaimed workoholic, but always makes time for his wife and their two boys.  If you can't find him at the restaurant, you'll find him soaking up the outdoors every time!
Chris Garriga, who has become known as a successful restaurant owner, realized his passion for the business when he started as a cook for Ponchatoulas.  After graduating from Louisiana Tech, he decided to pursue his love and became proud co-owner of Ponchatoulas in 2002.  Chris' and Johnny's love of authentic Louisiana homestyle cooking coupled with keen business acumen, turned into over fourteen years of proud ownership in three different establishments right here in the local market.  The partners expanded and purchased Log Cabin in 2005, and more recently Cheeburger Cheeburger of Ruston next to Walmart.
Chris also finds time to give back to the community by serving on several community boards.  When he isn't working, he enjoys cooking for his wife, Jennifer, taking refuge hunting and being outdoors, or spending precious time with his new baby daughter. Both Chris and Johnny encourage patrons to #EATLOCAL.